Clonmacnoise Bridge by: Aidan O'Sullivan and Donal Boland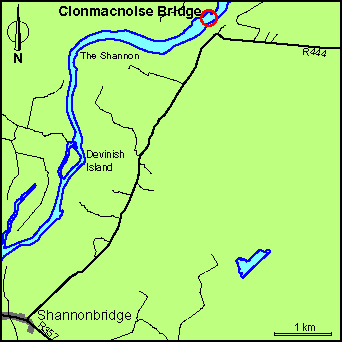 The early medieval wooden bridge at Clonmacnoise (Fig. 12.4.1) crosses the River Shannon immediately downstream of the monastic site (Plate 12.4.1) and is visible underwater today as a double row of eroded wooden posts at water depths of 1.5-5m. The site was first discovered in 1994 by two local divers (Donal Boland and Mattie Grehan). In 1995, a preliminary site survey was carried out by the Irish Underwater Archaeological Research Team (IUART). In 1997 and 1998, a detailed site survey and excavation was carried out by Aidan O'Sullivan and Donal Boland (Management for Archaeology Underwater Ltd.) for the National Monuments Service (formally Dúchas) and dendrochronological dates were obtained from the School of Palaeoecology and Archaeology, Queen's University Belfast, indicating that the structure was built c. 804 AD.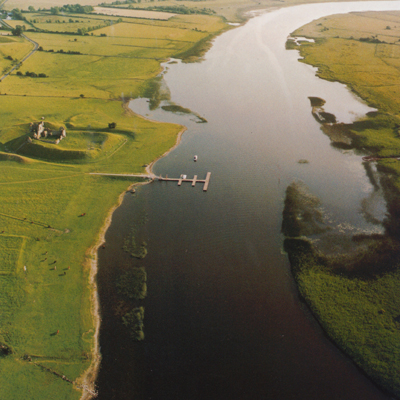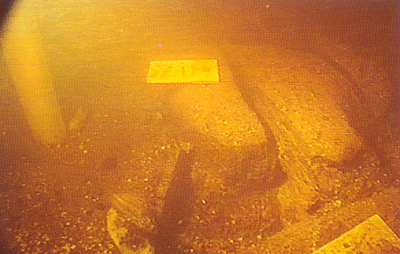 The early medieval wooden bridge was located on a shallow and relatively narrow part of the river, but owing to the exceptional depth and softness of the riverbed clays there, it could never have served as a natural fording place. While it is likely that this was a long-term crossing point for boats, it was crossed by a bridge structure for only a brief period. While its proximity to the monastic site explains its location, it is also significant that the bridge was approached on both sides by more long-distance route ways, the Slí Mhór to the east and a bog trackway in Coolumber to the west.
The bridge measured c.120m in length and 4-5m in width. A line of narrow, vertical hazel and alder poles was first driven into the riverbed to mark out its proposed location. The main bridge structure was then constructed of a double row of vertical oak posts, 4-5m apart. The bridge consisted of c. 25 pairs of these posts, spaced at c. 4-6m intervals going across the river, of which 17 survived. Underwater excavations revealed that the vertical posts were prevented from sinking into the riverbed by a simple, but ingenious method of individual base-plates, beams and planks (Plate 12.4.2) This could be reconstructed from the single vertical post excavated and extracted from the riverbed. This was driven to a depth of 3.5m into the soft clays. It had been crudely sharpened to a blunt point with augur holes drilled through the tip. It had a through-mortise cut through its side (3.5m from the tip). This snugly held a transverse oak beam; itself mortised at either end. Each of these mortises also a held broad, cleft oak plank. As the post descended into the riverbed, this arrangement of planks prevented it from sinking too far and allowed it to stand without swaying. Similar features on most of the other vertical posts indicate that this technique was used right across the river. The superstructure of the bridge has long been destroyed by collapse and riverine erosion and many timbers may have been robbed out soon after its abandonment. It is unlikely however, that it stood much higher than 6m above the riverbed, with a walkway of hurdles, poles or planks supported on a superstructure of jointed beams. Comparative studies of early medieval bridges in northern Europe and ethnological parallels of more recent wooden bridges suggest that the Clonmacnoise bridge would not have had a life span of much more than 40-50 years.
The underwater surveys and excavations also uncovered a number of associated finds. This includes eleven dugout boats, some of which were found beside the bridge timbers. Remarkably, three of these boats contained early medieval woodworking tools, including felling and carpentry axes and a whetstone. These tools may well have been lost during the bridge construction project. Another find on the riverbed beside the bridge included a rare eighth/ninth century copper-alloy basin, similar to examples found previously in the early medieval Derrynaflan hoard and in Derreen, Co. Clare. This is a type of vessel that was probably used in the church liturgy, for holding wine or washing of the hands. Its location on the riverbed could be explained by its accidental loss or by its violent removal from the monastery during a raid. Alternatively, the vessel may have been deliberately thrown into the river (it bears damage from a sharp object) for some as yet poorly understood reason. Other finds include a prehistoric chert core, an iron dish, wooden objects, animal bone and quantities of iron slag eroded into the river from probable early medieval ironworking sites along the riverbank.
The early medieval bridge at Clonmacnoise should be interpreted in the context of local and regional social and political developments in the Irish midlands in the early ninth century AD. It may have been constructed to enable the growing monastic population to travel easily back and forth to their agricultural estates on the west side of the river, or to enable pilgrims to come easily to the monastery. Alternatively, the bridge may have been constructed through royal patronage, as part of the aggressive political and military expansion of Connacht kings during the period. It can also be understood as a single event in the long-term history of travel across the River Shannon.
Note: The Clonmacnoise bridge project will be published in 2004 as O'Sullivan, A. and Boland, D. The early medieval bridge at Clonmacnoise: Underwater archaeological investigations, 1994-1998. Clonmacnoise Studies, Vol. 3, National Monuments Service.
References
Boland, D. 1996 'Clonmacnoise', In I. Bennett (ed.), Excavations 1995. Wordwell Ltd, Bray.
Boland, D. and O'Sullivan, A. 1997 'An early medieval wooden bridge at Clonmacnoise', In F.J.G. Mitchell and C. Delaney (eds.), The Quaternary of the Irish Midlands. Field Guide 21, Irish Association for Quaternary Studies, Dublin, 14-21.
O'Sullivan, A. and Boland, D. 1998 'Clonmacnoise', In I. Bennett (ed.), Excavations 1997. Wordwell, Bray, 148-49.
O'Sullivan, A. and Boland, D. 1998 'Medieval Irish engineers bridge the River Shannon', Discovering Archaeology 1, 32-37.
O'Sullivan, A. and Boland, D. 2000 The Clonmacnoise bridge: An early medieval river crossing in County Offaly. Archaeology Ireland Heritage Guide No. 11. Wordwell, Bray.
O'Sullivan, A., Brady, N. and Boland, D. 2000 'Clonmacnoise', In I. Bennett (ed.), Excavations 1998. Wordwell, Bray, 174.
---
This website was originally developed by Charles Camp for CIVL 1101.
This site is Maintained by the Department of Civil Engineering at the University of Memphis.
Your comments and questions are welcomed.