Instructor:
Dr. Charles Camp
Office: ES 106B
Phone: 678-3169 (office)
Email: cvcamp@memphis.edu
Hours Credit: 3 Semester Hours
Prerequisites: CIVL 2131 - Statics
Corequisites: CIVL 3322 - Mechanics of Materials
Course Meetings: Lecture: Tuesday and Thursday; 9:40 -11:05 Room ES 114

Required Textbook: "Structural Analysis" by Russell C. Hibbeler, Tenth Edition, Prentice-Hall, 2018, ISBN-13: 9780134610672
Required Homework System: Pearson's Mastering Engineering (https://www.masteringengineering.com)
Join code for Spring 2021: camp01951
COURSE DESCRIPTION
Analysis of statically determinate structures; reactions, shear, and moment; truss analysis; deflections; influence lines and moving loads.
OBJECTIVES
To further develop skills in determining reactions and loads on structures.
To familiarize the student with the basic concepts of truss analysis.
Learn to derive shear and moment expressions from loading functions.
Develop a basic understanding of influence lines.
Learn to compute deflections of beams using direct integration, conjugate beam and energy methods.
Application of analysis concepts to design.
GRADING
Grades will be based on homework assignments given each class period and collected the following class meeting, two structural design projects, two exams, a final exam. Letter grades will be awarded for the corresponding scores:
| | |
| --- | --- |
| Numerical Score | Grade |
| 90 - 100 | A |
| 87 - 89 | B+ |
| 84 - 86 | B |
| 80 - 83 | B- |
| 77 - 79 | C+ |
| 74 - 76 | C |
| 70 - 73 | C- |
| BELOW 70 | F |
The final grades for the course will be based on the following percentages:
| | |
| --- | --- |
| Components | Percentages |
| Homework | 10% |
| 2 Exams (30% each) | 60% |
| Final Exam | 30% |
ATTENDANCE
Regular attendance is necessary to maintain pace with the lectures and the progress of the class. If you must be absent, please make sure you know the assignment for the following class meeting and turn in any work due that day.
MAKE-UP WORK
Generally, if a student misses an exam, a homework assignment, or a project deadline, a score of zero will be recorded. However, the student may be allowed to make-up an exam or turn in their homework late if a valid reason for the absence is presented to the instructor at the next class meeting. If the student must miss an exam because of a conflict in their schedule the student must notify the instructor in writing at least two days prior to the absence.
CIVL 3121 - Homework Format -
pdf version
All assignments are to be submitted on engineering paper. You may use any type of engineering paper as long as it has a background grid. The example page below is for the paper available in the bookstore. If an alternate form of paper is used, the headings at the top of the page should be modified to match the printed partitions, however, the remainder of the instructions apply equally to either form.
Work should be done in pencil, and a lead hardness used which produces good contrast to the paper. Figures should be drawn with a straight edge and if appropriate, a circle template or compass. The layout and appearance of your work should be of professional quality. Work no more than one problem per page. Do not use the back of a page for any reason. All pages should be ordered by page number and stapled. A good guide for this standard is to prepare each assignment as if it were to be kept on file and sent to prospective employers as an example of your work at University of Memphis.
Homework is due at the beginning of class on the due date. . To account for a missed assignment, even with an valid excuse, one homework assignment will be dropped for consideration in computing the homework average.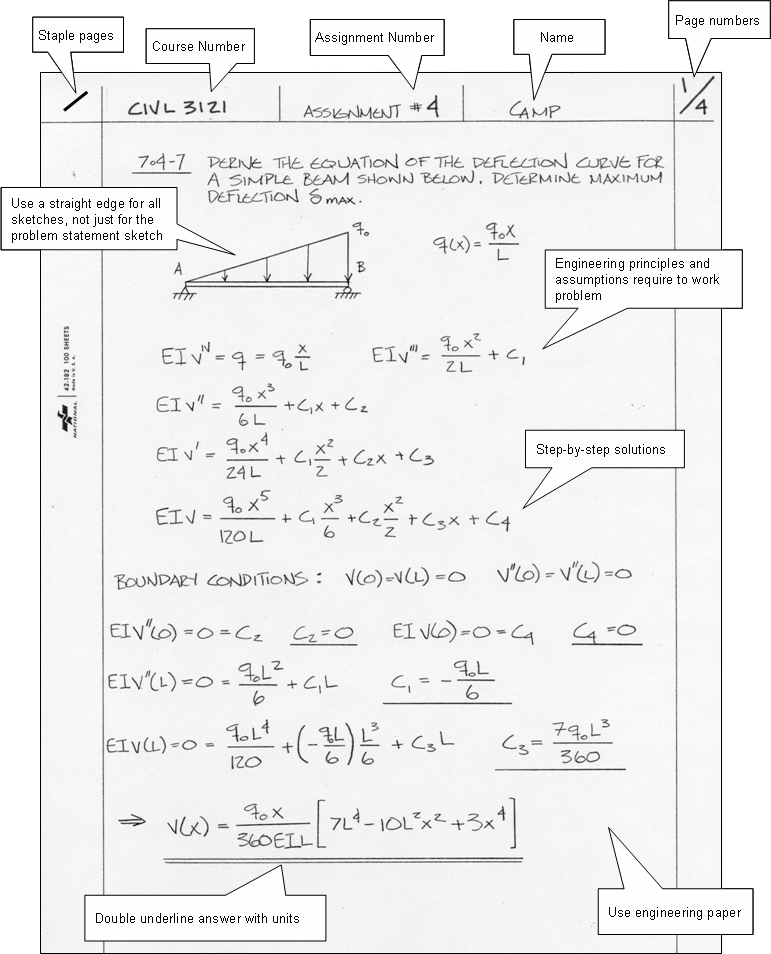 Student Accommodations
Students with accessibility issues or learning accommodation issues due to a disability should contact Disability Resources for Students (DRS) to submit an official request for course accommodations. Contact DRS at 901.678.2880 or at drs@memphis.edu. (https://www.memphis.edu/drs/index.php)
Academic Integrity
Plagiarism, cheating and other forms of academic dishonesty are prohibited. Students guilty of academic misconduct, either directly or indirectly, through participation or assistance, are immediately responsible to the instructor of the class in addition to other possible disciplinary sanctions which may be imposed through the regular institutional disciplinary procedures.
(https://www.memphis.edu/osa/students/academic-misconduct.php)
Student Health
Students who have a positive COVID-19 test should contact the Dean of Students at deanofstudents@memphis.edu.
Student Resources
Students who need additional resources can visit the Dean of Students Office website at https://www.memphis.edu/deanofstudents/crisis/index.php.
For courses that may return to face-to-face instruction (fully on-ground or hybrid) if conditions permit:
COVID-19 Health and Safety Policy - Masks and Social Distancing
All students, faculty and staff will wear masks in all public spaces, including our classroom (lab) per the COVID-19 policy. The first time a student enters a classroom without wearing a face covering, the student will be asked to leave the class until they return a covering. Further violations will be referred to the Office of Student Accountability. Students who repeatedly or flagrantly violate these community expectations may be referred for discipline under the Student Code and, if appropriate, immediately removed from campus by the Dean of Students.
Student Health
Students who are experiencing symptoms such as sneezing, coughing or a higher than normal temperature should inform me by email so they can be excused from class and should stay home. Students should contact their health care provider or the Student Health Center at https://www.memphis.edu/health/. Students who have a positive COVID-19 test should contact the Dean of Students at deanofstudents@memphis.edu.
Student Accommodations
If and when we return to class, students seeking to remain remote for health or other serious reasons should discuss their options with me. Students with accessibility issues or with other learning accommodation needs due to a disability should contact Disability Resources for Students (DRS) to submit an official request for course accommodations. Contact DRS at 901.678.2880 or at drs@memphis.edu. (https://www.memphis.edu/drs/index.php)
Student Resources
Students who need additional resources can contact the Dean of Students Office at https://www.memphis.edu/deanofstudents/crisis/index.php
---